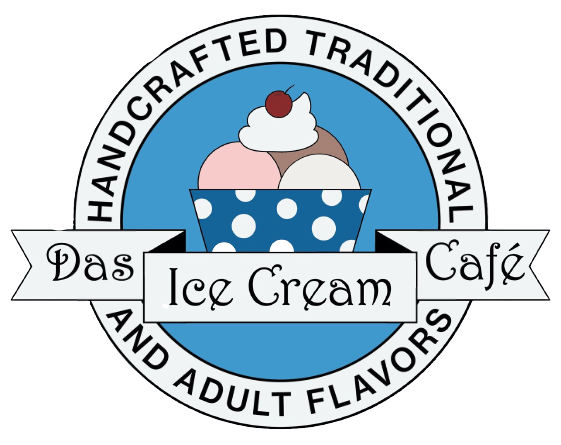 Who We Are
Das Ice Cream café is the first ice cream parlor in Helen, Georgia to serve adult alcohol-infused ice cream and offer Dairy-free and sugar-free flavors.
"Alpine Helen celebrates life with culture, food, and desserts, we wanted to continue those traditions by putting a bit of fun back into your life by creating something special," said ice cream shop owner D. Whittington. "In addition to delicious homemade, freshly churned on-site ice cream that the kids will love, adults can enjoy non-traditional creations with the best brands of alcohol and the freshest, richest and creamiest ingredients."
Das Ice Cream Café offers many flavors of premium, traditional ice cream, like: Old Tyme Vanilla and Chocolate, Oreo, Snickers, Key Lime, Salted Caramel, Lebkucheneis, and Vanilla Caramel Praline.
Don't fret! If you find that you need dairy-free or sugar-free flavors, there are a variety of options that we offer.
If you are 21+ years old, we offer some flavors that have a bit of a kick to them. Our alcohol-infused flavors include Bananas Foster, Honey Bourbon Vanilla, Bourbon Caramel Pecan, Black Forest, Helen Mud Slide, and Rudesheimer – all are delicious and customer favorites.
Just to make your experience with us even more yummy, Das Ice Cream Café offers sundaes and an assortment of homemade milkshakes and ice cream floats, including Eiskaffee, a special German coffee float. Spaghettieis is a favorite with visitors who come to try this delicious dessert!
The Owners Story
D. Whittington and Maria Anderson are the co-owners of Das Ice Cream Café, located in Helen, Georgia.
Maria Anderson was born in Nurnberg, Germany and moved to Atlanta, Georgia in 1956. She attended and graduated from Cross Keys High School and North Georgia College. In 1997, Maria received her master's degree in Educational Leadership from the University of Oklahoma.
D. Whittington was born and raised in Atlanta, GA. After graduating from Cross Keys High School, Whittington served his country, spending several years as a U.S. Army Helicopter pilot. After being discharged, D. Whittington worked as a corporate pilot, a master plumber, and then as a project manager in Alaska-living there for 20 years.
After retiring and moving back to Georgia in 2016, high school sweethearts Maria and D. reconnected. Several years were spent traveling and enjoying retirement; however when D. heard about alcohol-infused ice cream, all that changed.
Why Choose Us
Here at Das Ice Cream Café, we make the best ice cream & frozen dessert around. We freshly churn our ice cream, using the best quality ingredients. Most of our ingredients are locally sourced, providing all our customers with the finest ice cream in Helen, Georgia.
We offer a variety of options and flavors to our customers.
We offer:
Freshly churned ice cream flavors
Spaghettieis
Sundaes
Milkshakes
Table & Counter Service
Adult, Alcohol-infused ice cream flavors (must be 21+ years old to order)
Flavor
96%
Freshness
87%
Experience
91%
Check Out Our Gallery
Come and check out some of our customer's favorite frozen desserts. See why we are unique and a community favorite – We have something for all ages.
Why Choose Us
"This is the best ice cream in Helen! We absolutely loved it. They have a good mix of traditional and "adult" flavors. (Bring your ID because they do check 'em.) The folks here are super friendly.
I got Naughty Otter (mocha and Bailey's) and she got Bananas Foster. Fresh ingredients and a great cozy spot to escape the heat for a minute. Go here; your taste buds will love you for it and your waistline will forgive you later."


E.B. Dean⭐⭐⭐⭐⭐
"Wow! If I could would give them 10 starts review. So creamy and delicious we tried Bourbon Caramel pecan- (my favorite)
Other friends were delighted with Black Forest flavor and Nutella swirl. The owners are so friendly, the location is kind of hidden but with patience and following the signs you will find it. Will come back!"


John Doe⭐⭐⭐⭐⭐
"All the flavors we got were very tasty, even the dairy free, sugar free chocolate. The owners were super friendly and helpful. And, we're totally coming back to try a flight of the "adult" ice cream flavors!!"


Kathleen Scott⭐⭐⭐⭐⭐
Previous
Next

Leave a Review

Did Someone Say ICECREAM!?
if so, we have something for everyone!